The Hellenic-American Cultural Center & Museum (HACCM) is the leading 501(c)(3) museum and cultural center of its kind in the Western United States. It is located on the second floor of the Fr Elias Stephanopoulos Center.
HACCM was created to:
Gather, preserve and share the Hellenic (Greek) American experience in Oregon and SW Washington
Celebrate the rich cultural tradition brought to this region by Hellenes
Honor the activities and accomplishments of Hellenic Americans.

Exhibit Now Online: Vases and Verses
Visit our online Vases and Verses exhibit and experience the theater and literature of ancient Greece! Learn about masks, costumes, and the role of the chorus. View the renowned Epidaurus theater and learn how the sanctuary led to the building of the theater.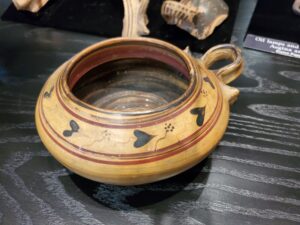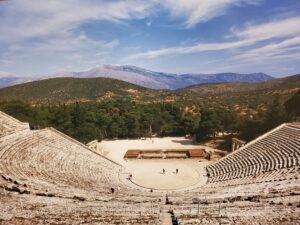 News
November 21, 2020 11:00 am PT
An American in Athens: HACCM in conversation with Yvette Jarvis
The Hellenic-American Cultural Center & Museum of Oregon and SW Washington presents an online interview with former Athens city councilwoman Yvette Jarvis. Ms. Jarvis will be in conversation with Stacey Gianopoulos about her experience of immigrating to Greece in the 1980's from the United States.
This interview, presented via Zoom free-of-charge, is part of HACCM's fall programming focusing on immigration, migration, and life in the adopted country.
Click here for more information
April 21, 2020
HACCM hires Executive Director
The Board of Directors of the Hellenic-American Cultural Center & Museum of Oregon and SW Washington is pleased to announce the appointment of Brandon Baker as the organization's first Executive Director. The position is funded by a capacity-building grant from the M.J. Murdock Charitable Trust in Vancouver, Washington.
March 15, 2020
Hellenic-American Cultural Center & Museum is temporarily closed due to COVID pandemic
HACCM  is closed effective March 15 until further notice in an effort to slow down the spread of COVID-19. The gallery is closed and all public programs and events are canceled until further notice. HACCM may be closed to the public, but staff and volunteers are busy working from home, doing research and preparing for new exhibits and programs, and finding ways to improve our operations and fulfill our mission.