The Hellenic-American Cultural Center & Museum (HACCM) is the leading 501(c)(3) museum and cultural center of its kind in the Western United States. It is located on the second floor of the Fr Elias Stephanopoulos Center.
HACCM was created to:
Gather, preserve and share the Hellenic (Greek) American experience in Oregon and SW Washington
Celebrate the rich cultural tradition brought to this region by Hellenes
Due to the ongoing Covid-19 Pandemic, the HACCM in-person celebration of Greece's Bicentennial of Independence has been cancelled.
Exhibit Now Online: Vases and Verses
Visit our online Vases and Verses exhibit and experience the theater and literature of ancient Greece! Learn about masks, costumes, and the role of the chorus. View the renowned Epidaurus theater and learn how the sanctuary led to the building of the theater.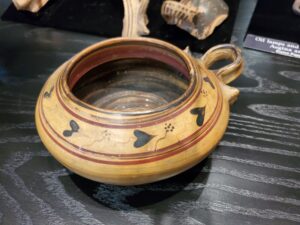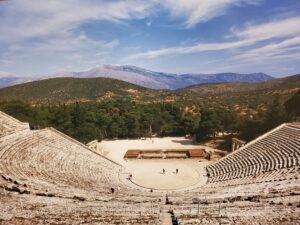 News
January 21, 2021 7:00 pm Pacific
In Conversation With Alexi Pappas
Hellenic-American Cultural Center & Museum (HACCM) is pleased to welcome award-winning writer, filmmaker and Olympic athlete Alexi Pappas to a virtual interview about her new book, 'Bravey: Chasing Dreams, Befriending Pain, and Other Big Ideas' available from The Dial Press on January 12, 2021.
ALEXI PAPPAS is an award-winning writer, filmmaker, and Olympic athlete. Her writing has appeared in The New York Times, Runner's World, Women's Running, Sports Illustrated, The Atlantic, and Outside, among other publications, and she has been profiled in The New York Times, Sports Illustrated, New York, and Rolling Stone. Pappas co-wrote, co-directed, and starred in the feature film Tracktown with Rachel Dratch and Andy Buckley. Most recently, she co-wrote and starred alongside Nick Kroll in Olympic Dreams, the first non-documentary-style movie to ever be filmed at the Olympic Games. A Greek American, Pappas holds the Greek national record in the 10,000-meters and competed for Greece in the 2016 Olympics. She lives in Los Angeles, California.
---
April 21, 2020
HACCM hires Executive Director
The Board of Directors of the Hellenic-American Cultural Center & Museum of Oregon and SW Washington is pleased to announce the appointment of Brandon Baker as the organization's first Executive Director. The position is funded by a capacity-building grant from the M.J. Murdock Charitable Trust in Vancouver, Washington.
---
March 15, 2020
Hellenic-American Cultural Center & Museum is temporarily closed due to COVID pandemic
HACCM  is closed effective March 15 until further notice in an effort to slow down the spread of COVID-19. The gallery is closed and all public programs and events are canceled until further notice. HACCM may be closed to the public, but staff and volunteers are busy working from home, doing research and preparing for new exhibits and programs, and finding ways to improve our operations and fulfill our mission.