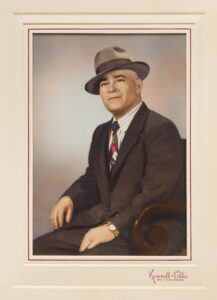 Athanasios (Tom) Efthimiou Stefopoulos was a factory worker, railroad man, commercial artist, and a champion penman. Art was his first love, but pursuing this was difficult for a young immigrant in an adopted country where he did not even speak the language. In 1945, he was employed by the Spokane, Portland & Seattle Railroad to work as a crossing watchman under the Lovejoy Ramp of the Broadway Bridge in Portland, Oregon. It was here that the artist created the iconic "Lovejoy Columns." 
View the galleries below to see details of Stefopoulos's work, including practice sheets, pen art, and the murals on the Lovejoy Columns. Then click the button to view the digital exhibition, which traces the artist's journey from Lamia, Greece, to Portland, Oregon, and everywhere in between.
Digitization of this exhibition sponsored by the Oregon State Capitol Foundation.
To listen to our podcast episode about Tom Stefopoulos, click here.