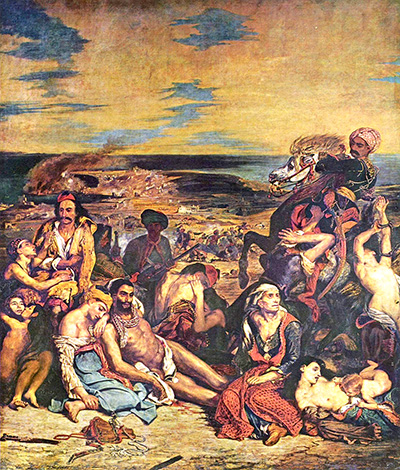 June 26, 2021, 7:00 pm

Hellenic-American Cultural Center & Museum board member Demetrios Stavrakas presented a webinar about "Philhellenes of the West – American Contributions to Greece in 1821"
The American Philhellenes for the Greek Revolution of !821 were very fond of Greece and its ancient culture. They sympathized with the Greeks because a few decades before they had revolted themselves. The additional compelling factor for support of the Greek revolution was that the oppressed Greeks had suffered for four hundred years under the Ottomans and their struggle was for freedom and the establishment of a new country by the people who had lived there for four thousand years!
The siege of Misologgi where Lord Byron died and the Chios 1822 massacre when over 20,000 people were killed or starved to death touched the hearts of many people in Europe and in the West. Many private citizens in America responded with contributions to the cause of the Greek struggle in the form of money, medical supplies, personal services, press support and direct participation in the Greek battlefields including adoption of the orphans of dead heroes.
Eugene Delacroix of France with his 1824 The Massacre of Chios painting marked the annals of the history of the Greek Revolution!
About Demetrios Stavrakas
Mr. Stavrakas is a retired mathematician and technological consultant now residing in the Portland, Oregon area. His long career includes service with the Federal Reserve, U.S. Department of Labor, and the National Aeronautics and Space Administration (NASA), where he worked in the manned spaceflight division for the Gemini and Apollo programs. Demetrios immigrated to the United States from Greece in the early 1960's to study at the American University in Washington, DC. He currently serves as a board member for the Hellenic-American Cultural Center & Museum of Oregon and SW Washington.
This webinar was offered free by Hellenic-American Cultural Center & Museum via Zoom.