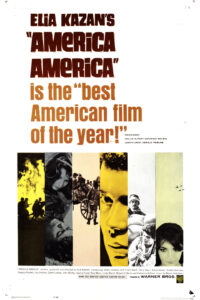 The Hellenic-American Cultural Center & Museum is planning several events and programs for you. We're starting out the summer with a film presentation of "America, America" which is set for Saturday, June 25th, 2022 at 5:30 pm. in St. Demetrios Hall in the Father Elias Stephanopoulos Community Center.
"America, America" is a 1963 American drama directed, produced and written by Elia Kazan, adapted from his book published in 1962. In 2001, "America, America" was included in the annual selection of 25 motion pictures added to the National Film Registry of the Library of Congress. It was deemed "culturally, historically, or aesthetically significant" and was recommended for preservation. The film received several nominations at the 36th Academy Awards including Best Film, Best Director and Best Original Screenplay.
The story is about Stavros Topouzoglou, a Cappadocian Greek, who lives an impoverished life in a village in Ottoman Turkey. His life was typical of both Greeks and Armenians under the oppression of the Turkish government. Knowing that the Greeks won't remain safe from violence forever, the family sends Stavros to Constantinople. He is entrusted by his father with the family's financial resources in a mission of hope to work in the carpet business of his father's cousin. However, Stavros's dream is to reach the faraway land of opportunity, America. Young Stavros stops at nothing to secure a passage to America. This is a touching and sensational film under the excellent direction of Elia Kazan. Won't you join us in this special screening? The event is free although donations are appreciated.
June 25th, 2022
St. Demetrious Hall in the Father Elias Stephanopoulos Community Center – 3131 NE Glisan, Portland, OR
5:30 pm – Doors open
5:45 pm – Movie begins
SPECIAL GUEST:
Greg Goekjian, Retired PSU English Professor will give a short presentation on the Armenian Genocide with a Q&A session after the movie.
Admission is free. Donations are appreciated.
Questions? Please email: haccmpdx@gmail.com