PRESS RELEASE 1/1/2022
FOR IMMEDIATE RELEASE
Hellenic-American Cultural Center & Museum (HACCM) Hires Executive Director
PORTLAND, OREGON (January 13, 2022) — The Hellenic-American Cultural Center & Museum of Oregon and SW Washington (HACCM) has hired Maria Phoutrides as Executive Director. This position is funded by a grant from the M.J. Murdock Charitable Trust. Born and raised in Portland, Maria brings a lifelong familiarity with the Greek community of the Pacific Northwest. In addition to previous engagements with HACCM, Maria also worked with Greeks in Washington, a virtual museum in Seattle.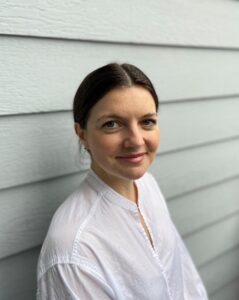 Maria holds a B.A. in Art History and in International Relations from the University of Southern California and an M.A. in Art History from the University of Washington. During graduate school, Maria worked as an intern at the Seattle Art Museum, where she designed and coordinated Exceptionally Ordinary: Mingei 1920-2020, an exhibition of Japanese folk crafts and contemporary art. Prior to starting her role as Executive Director, Maria worked as an archivist for a private collection in Seattle.
Maria brings an archivist's perspective to this position, and a goal to strengthen community engagement with HACCM. Mary Osborn, Chairperson of the Board commented, "Maria understands the importance of the Museum. She possesses the character and personal qualities our members will embrace."
Building on a strong foundation developed and sustained by board members and volunteers, Maria will focus on fundraising and strategic planning as the museum looks ahead. "We have big goals," Ms. Osborn said, "Maria is the right person at the right time to lead the growth and development of the museum and cultural center."
Founded in 2006, the Hellenic-American Cultural Center & Museum was instituted to gather, preserve, and share the Hellenic (Greek) American experience in Oregon and SW Washington. Currently, visitors can enjoy the newest exhibition "In the Shadow of the Acropolis". HACCM has remained active and vibrant throughout the pandemic with virtual programs open to the public, and is planning to expand the community oral history project. For more information, please visit the website: https://hellenicamericancc.org.
###